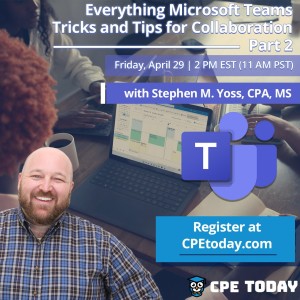 Friday Apr 29, 2022
Everything Microsoft: Teams Tricks And Tips For Collaboration - Part 2
Microsoft Teams has proved to be the saving technology for many organizations through the COVID-19 Pandemic. Millions of us worked from home. It allowed for us to conference call, screen share, and exchange files like we were all sitting in the same office. It gives us the ability to be able to operate and communicate anywhere with Internet connectivity. This class explores how to effectively implement and leverage Microsoft Teams inside your organization. It will look at some of the best practices for communication, security, productivity, and more. The class will take a specific look at the newest Team's features to help you implement the latest and greatest. You'll learn how to use this tool to run meetings in your organization, take advantage of 3rd party plugins, schedule appointments with colleagues, and more. Regardless of if you're a new user to Teams or a Power user you will learn how to use this incredible tool more effectively.
Are you a CPA?? Are you a Financial Professional?? Earn CPE Credits for Today's Podcast. Check out https://cpe.cx/mtt2/. Take a quick 5 question quiz and get your certificate today. Super Easy! 
Presented by Stephen M. Yoss, CPA, MS (https://yoss.io)
Produced by Alicia Yoss & Alanna Regalbuto
Graphics By Flaticon.com and iStock
Music by Bensound.com
Education and Compliance By K2 Enterprises (https://k2e.com)
Copyright. All product names, logos, and brands are the property of their respective owners. All company, product, and service names used in this website are for identification purposes only. The use of these names, logos, and brands does not imply endorsement.
Educational Use Only. The information presented in this presentation is for educational use only. The presenter will make specific recommendations, but the participant is highly recommended to do their own due diligence before making any investment decision.